Professional cable assembly manufacturer more than 15 years
Name: Philip Wong
Tel: +86-755-28191298
Fax: +86-755-28191388
E-mail: sales@custom-cable-assembly.com
Add: 2 Floor,C Building,Hengfeng Industrial Park,Baoan,Shenzhen,China
Skype: cableassembly88
MSN: cableassembly@outlook.com

Product name : JST LD-Y connector LD-Y cable assembly

Item : 201310813319

Price : according to quantity
Details:
This wire-to-board connector is designed for Internal I/O port in LCD Monitor/TV, and is with secure locking device that prevents the connector from coming off by wiring operation and/or vibration.

Product Profile
| | |
| --- | --- |
| Series | LD-Y connector |
| Category | Wire to Board Crimp style Connectors |
| Type | For LVDS, Thin type, With secure locking device |
| Feature | With secure locking device |
Specification
Pitch
1.0 mm
Current rating
0.3A
Voltage rating
200V
PC board
mounting direction
Right-angle


Compliant with RoHS.
(LF)(SN) as identification part number shall be displayed on a label.
When ordering RoHS compliant products, please inquire to the nearest
JST Sales Office, or order them with the described part number adding
(LF)(SN) as the identification marking after it.
This wire-to-board connector is designed for Internal I/O port in LCD Monitor/TV, and is with secure locking device that prevents the connector from coming off by wiring operation and/or vibration.


Product Profile

| | |
| --- | --- |
| Series | LD-Y connector |
| Category | Wire to Board Crimp style Connectors |
| Type | For LVDS, Thin type, With secure locking device |
| Feature | With secure locking device |

Specification

Pitch
1.0 mm
Current rating
0.3A
Voltage rating
200V
PC board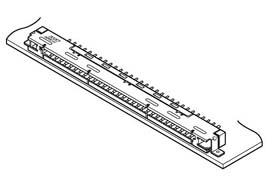 Please contact us for more:
E-mail: cableassembly@outlook.com Skype: cableassembly88


connector and cable assembly,custom cable assembly,molex cable assembly,JST cable assembly,Hirose cable assembly,tyco cable assembly,JAE cable assembly,UJU cable assembly,ACES cable assembly,TE cable assembly, Ribbon cable assembly,IDC cable assembly,D-SUB cable assembly,SCSI cable assembly,Round cable assembly,JST connector,Molex connector,TE connector,JAE connector,Hirose connector,ACES connector,SCSI connector,D-SUB connector