Professional cable assembly manufacturer more than 15 years
Name: Philip Wong
Tel: +86-755-28191298
Fax: +86-755-28191388
E-mail: sales@custom-cable-assembly.com
Add: 2 Floor,C Building,Hengfeng Industrial Park,Baoan,Shenzhen,China
Skype: cableassembly88
MSN: cableassembly@outlook.com

Product name : LEB connector LEB cable assembly

Item : 2013109103619

Price : according to quantity
Details:
Considering about luminescence property of LED device, this LEB connector is designed as low profile type connector (height: 2.7mm) for LED lighting, and achieves the space saving. The horizontal connection between PCBs enables and the mechanism of absorbing the PCB misalignment has been installed considering the parallel use for the connector. Fork type contact that has a high contact pressure (receptacle side) and enough mating stroke provide the stable contact performance even if the PCB expands and contracts due to heat.

Product Profile
Series
LEB connector
Category
Board to Board Connectors
Type
Crimp style, Disconnectable type
Absorbing PC board misalignment type, PC board horizontal mounting type
Feature
For LED lamp
Specification
| | |
| --- | --- |
| Pitch | 4.0 mm |
| Current rating | 3A |
| Voltage rating | 300V |


Compliant with RoHS.
(LF)(SN) as identification part number shall be displayed on a label.
When ordering RoHS compliant products, please inquire to the nearest
JST Sales Office, or order them with the described part number adding
(LF)(SN) as the identification marking after it.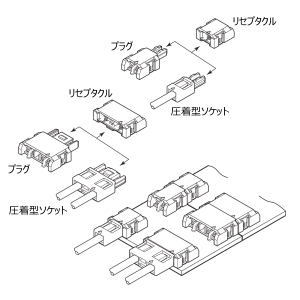 Please contact us for more:
E-mail: cableassembly@outlook.com Skype: cableassembly88

connector and cable assembly,custom cable assembly,molex cable assembly,JST cable assembly,Hirose cable assembly,tyco cable assembly,JAE cable assembly,UJU cable assembly,ACES cable assembly,TE cable assembly, Ribbon cable assembly,IDC cable assembly,D-SUB cable assembly,SCSI cable assembly,Round cable assembly,JST connector,Molex connector,TE connector,JAE connector,Hirose connector,ACES connector,SCSI connector,D-SUB connector,molded cable assemblies